Choosing A Puppy Mixed vs.Purebred
Choosing a puppy, what a wonderful endeavor. The first thing many people have to initially decide is mixed vs. purebred. I have orchestrated the adoption of 40+ puppies and what I have seen, as well as my clients is that these mixed breed puppies are little gems.
I do favor the mixed breed puppy based upon my experience with many puppies that I have had the pleasure to care for. I do not want to necessarily sway your choice but I'll share with my readers some positive benefits of choosing a puppy that is a mixed breed.
With a mixed breed vs. purebred you will have a lower risk of the issues that have become more prevalent with bad and over breeding practices. Specific health and temperament issues are now more common in certain popular breeds. Mixed breeds tend to have good genetic diversity, avoiding the negative consequences of inbreeding.
1) Mixed breeds tend to have a more middle of the road temperaments and less of some of the extreme behaviors of the purebred. This modified temperament means an easier dog to train and one which can adapt well to household living conditions. 2) Mixed breeds also tend to have less extremes in physical body builds and have a more natural body type which can help avoid physical deformities. 3) Depending on your geographical location, mixed breed puppies are often coming from high risk situations and by choosing a mixed breed puppy you have an opportunity to provide them a safe loving home. They need you!
4) Lastly, you can spend significantly less money by choosing a puppy that is mixed.
"Money will buy you a pretty dog, but it won't buy the wag of his tail." Josh Billings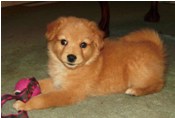 From personal experience, it's been a great adventure to watch the unfolding of each puppy's personality, temperament and breed characteristic whatever it may be. If you can have some faith in the genetic diversity, would like to spend a more moderate amount of money on a puppy, have less risk of health & temperament issues and would save a life in the process, the mixed puppy is for you.
"A really companionable and indispensible dog is an accident of nature." E.B White
Related Articles
Best Companion Dogs
Best Dog Breed For Me
Return From Choosing a puppy to Home Page