New Puppy Care
New owners are typically very concerned about providing the best new puppy care. I know how hard it is to contain the excitement when you're bringing a new puppy home. It's hard not to want to fuss with the bundle of joy. I'd like to make some suggestions on how you can best help new puppies adapt to their novel surroundings.
The calmer the environment and having new things introduced slowly will help a great deal with the transition period. I've found that it usually take two to three days for new puppies to become familiar with their surroundings and begin to relax.
It's helpful to understand how overpowering some things can be for your new puppy that we take for granted as being an everyday part of our lives. The ring of the phone, the drone of the TV, music from the stereo, shut them off! Provide your new puppies with a peaceful environment. Dogs often respond better when there is less sound involved. Carve out some uninterrupted quiet time to spend with your puppy. Give them the gift of silence and peace. Give them some time with you!
Your new puppy will thank you if you hold off or limit the following: Lots of new people coming to see the new pup, taking lots of puppy pictures, baths, trip to the vet. These can wait a few days, providing the space in which your new puppy can settle into their new home and routine.
Understanding the nature of dogs will greatly enhance the quality of your relationship. Dogs socialize in packs and naturally will look for a leader who needs to be YOU for a sense of safety and stability. Establishing a solid bond prior to embarking upon any puppy obedience training will go a long way for you both to enjoy each other's companionship. Once your new puppy has bonded with and trusts you, introducing new thing will be much easier.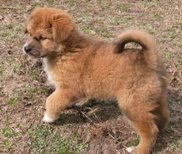 Providing the best new puppy care will offer an environment which allows the special bond of man and dog to begin.
Related Articles
Bringing a New Puppy Home
Puppy Proof Your Home
Puppy Questions