Dog Training and Behavior
I have presented information on dog training and behavior which goes beyond the basics of typical training techniques. I'd like the reader to become aware of how the dog really see the world and creates a relationship that understands and respect their nature.
In subsequent articles I have gone into depth about the nature of the dog and with that enhanced knowledge you can gain a greater quality and depth of rapport and trust. Your understanding of the behaviors that are hard wired into the dog will allow you to let the dog be a dog and subsequently be a more congenital member of the family.
Most people do a great deal of projecting onto the world at large, which includes our dogs. Our relationship with ourselves is reflected in the relationship with our canine friends. You can enhance the quality of your relationship by becoming more aware of how we are in our own space and realizing that your dog is picking up much more about you than you may have previously been aware of. That increased awareness can also open the door for greater understanding of how you influence the behavior of your dog.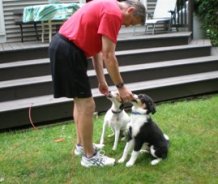 One of the most common issues particularly with new puppies is a lack of clear communication. Consistency and timing are just two factors of several that influence good communication and therefore effective training. Please refer to my numerous articles for valuable information on dog training and behavior.