Testimonials
Connecting The Joy Of New Life With Their Homes.

Hondo
My decision to find another puppy did not come lightly, 3 months earlier I had lost my best friend OZ and to tell you the truth, I never thought I would ever get another dog. Then I came across Susan's web-site, I started to look at all the puppies and before you knew it I was talking to her. Susan understood what I was feeling in the loss of my dog and just talked to me about her puppies and the process if I decided on one of the pups. Well I did, we call him "Hondo" he is everything Susan said he was and more. She handheld everything for us, right down to the airplane ticket and getting him to the airport. From beginning to end, Susan made this experience "DOG GONE GOOD"... Thank you Susan, Bruce & Luisa




Cookie Susan, Happy Holidays! I can't thank you enough for our beautiful (border collie) Cookie. She is such a joy! She is the sweetest, most obedient dog I have ever had (and I've had lots!). She is great with the kids, and due to your initial raising has never had any behavioral problems. She is the princess of our house! Happy Holidays and best wishes to you and your wonderful mission. Thanks, The Farren Family.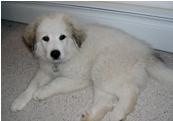 Sophie Our decision to adopt a new puppy happened very quickly. We saw the photos online and after 30 minutes on the phone with Susan we were sold. It was a very positive experience, Susan was extremely patient and helpful, answering all our questions and making all the necessary arrangements to make sure our puppy Sophie came to us happy and healthy. Only three days after our first conversation with Susan we were on our way to Logan airport to pick up Sophie. The process was very simple, we picked her up at baggage, and were in and out of the airport within 30 minutes. Sophie was just as Susan described, she is very sweet and a great fit for our family. The Riendeau Family