Dog Food Nutrition Basics
How do you determine which dog foods provide the best dog food nutrition? This is one of the most frequently asked questions new owners have prior to bringing their new puppy's home. To really understand the level of quality requires that you read the label providing information as to the dog food ingredients. The most expensive dog food is not always the best but you can be assured that the lower priced foods are of lesser quality.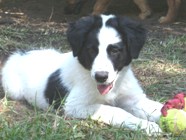 All dogs need protein and the first dog food ingredients should be a good quality protein, such as chicken or lamb. Ingredients are listed by in descending order in regards to the quantity. The ingredients and the order by which they appear assist you to determine the best healthy dog food. A quality protein is one in which the amino acids contain in the protein can be readily broken down, therefore used by the body. You will frequently see these ingredients which are of lesser quality, chicken by-products or other meat by-products, and lower yet are meat & bone meal. Many of the fillers used such as corn, corn gluten meal, soybeans are not readily used and much of it passes through the body.
The amount of protein is another factor to consider when evaluating a healthy dog food. The percentage of protein and fats will be listed on the label. Here are the recommend levels of protein & fat. Puppies 28% protein 17% fat, Dogs 18% protein & 9-15% fat. These percentages for each protein reflect how well it is to be absorbed by the body. Egg 100%, Fish meal & milk 92%, Beef 78%, soybean meal 67%, Meat and bone meal 50%, and corn 45%. It's clear to see that the quality of the protein can vary greatly and needs to be factored in when evaluating the merit of the food.
Please be aware that some manufactures will disguise dog food ingredients by breaking them down into parts, such as corn meal, corn gluten and corn as an example.
The best way to really evaluate dog food nutrition for the cost is to know what the ingredients really are and in what quantity. You can feed less of good quality ingredients because they are more completely digested. So a higher quality dog food even though it may cost more may be your best buy.
Related Articles
Feeding a Puppy
New Puppy Care
Return From Dog Food Nutrition to Home Page